iZotope Product Portal is a downloadable application that allows you to seamlessly manage your iZotope software in one central location.
You can download Product Portal at the links below:
Download for Mac Download for PC

We recommend the following minimum system requirements to run iZotope Product Portal:
Windows: Windows 10 - Windows 11
Mac: macOS Catalina (10.15.7), macOS Big Sur (11.7.4), macOS Monterey (12.6.3), macOS Ventura (13.2.1).
Product Portal is compatible with Intel Macs & Apple silicon (M-series) Macs in Rosetta only.
What does it do?
Registers new products
When purchasing through an authorized reseller, or when receiving an iZotope product as a gift, you will be provided with a serial number in the following format:

SN-PRODUCTNAME-XXXX-XXXX-XXXX-XXXX

To add this product to your account launch Product Portal and press the + button at the top right side of the window.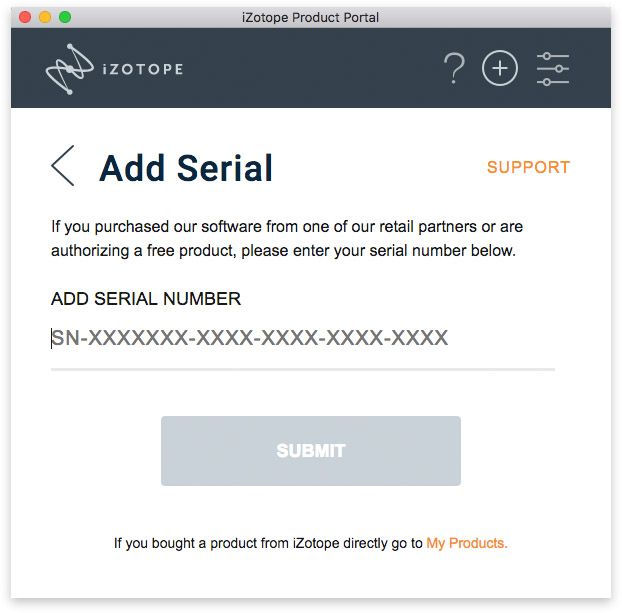 Download, install and authorize existing products
Launch Product Portal and navigate to the MY PRODUCTS tab. Then select the INSTALL/AUTHORIZE filter for an easy view of products available to install. Click "INSTALL" on the product you purchased, or click 'INSTALL ALL' to install all products that are not currently installed. *Some legacy products do not support Install All functionality, if you select one of these Product Portal will alert you and give you the option to install individually.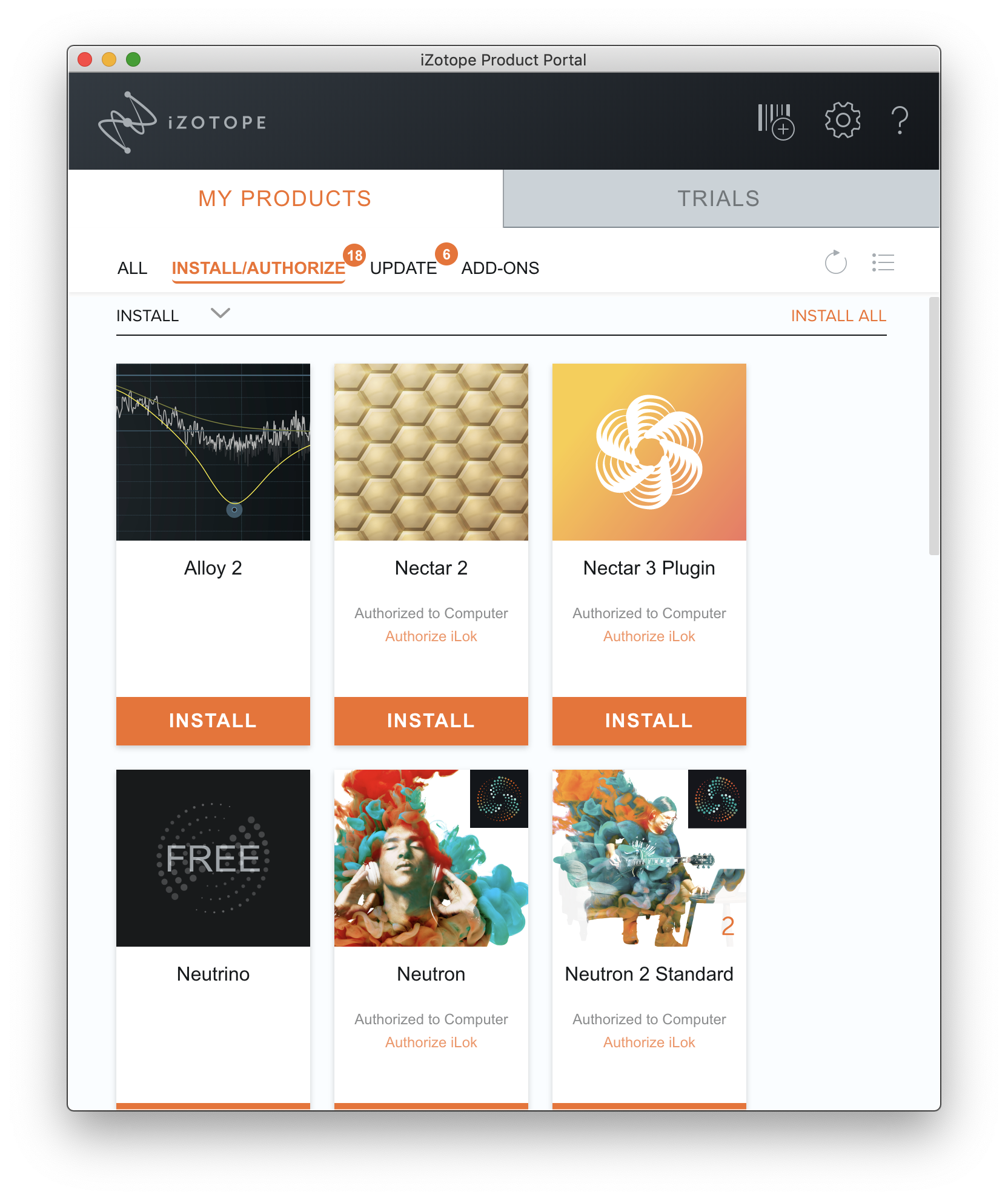 For Add-ons, head to this article for more information on redemption and installation.
Access trials/demos and expansion content
If you have purchased or own an Add-On for any iZotope products, select ADD-ONS. From there you can select "INSTALL" under the Add-On you would like to install.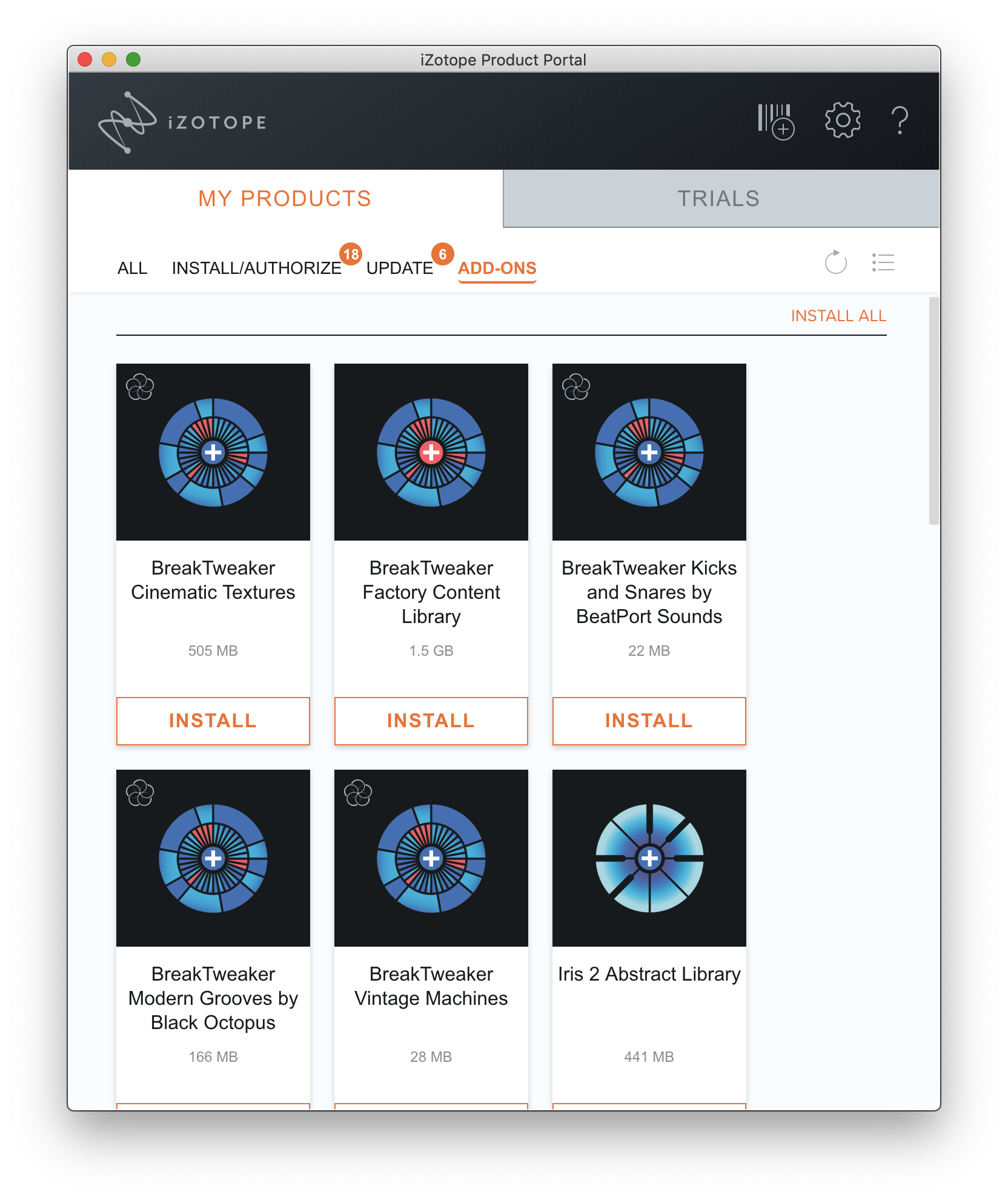 How to use Product Portal: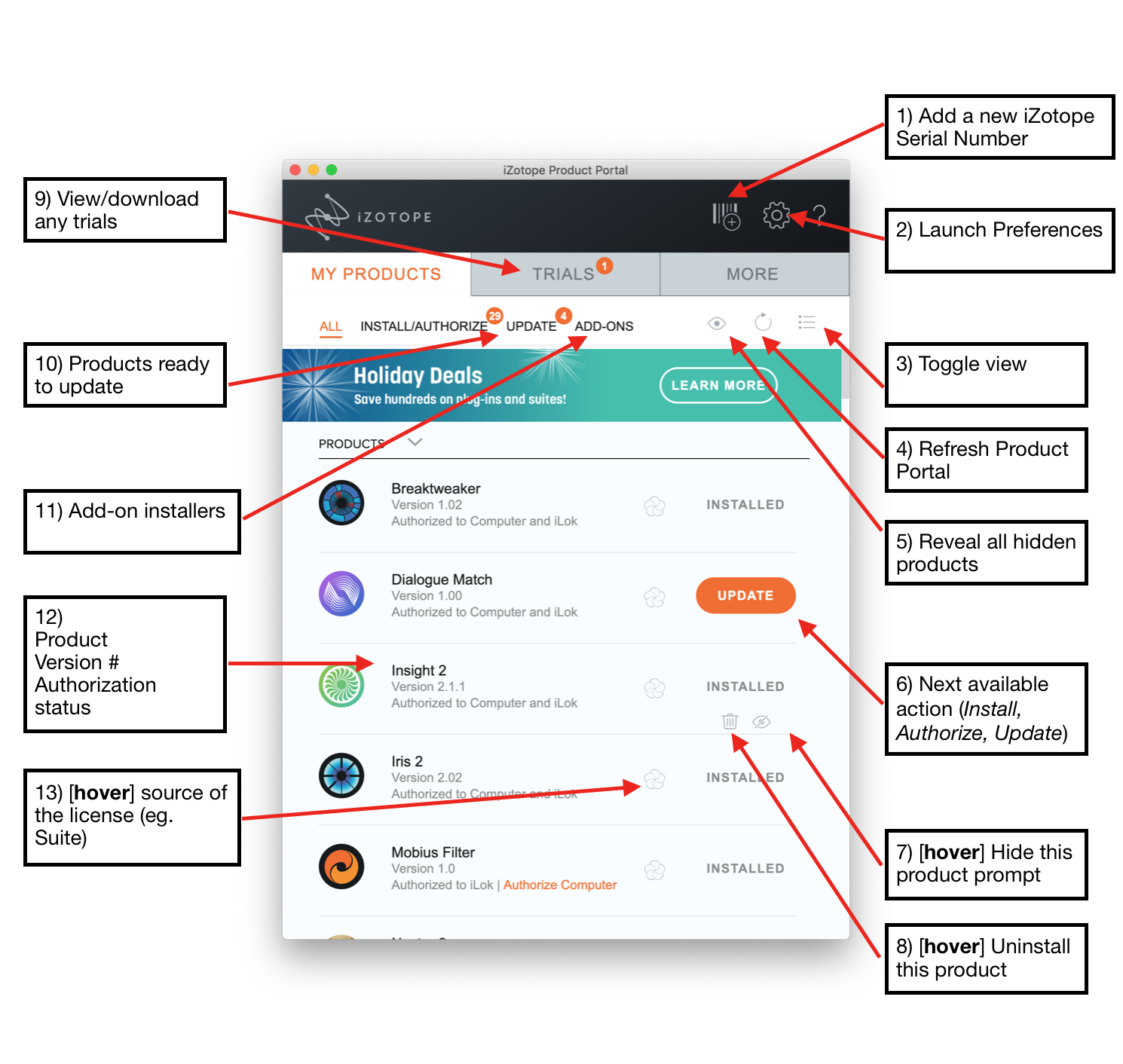 Add a new serial number. Use this to add an iZotope serial number, be sure it matches the format:
SN-[PRODUCT]-XXXX-XXXX-XXXX-XXXX
Launch Preferences. Use this to open additional links and options.
Toggle view. Use this button to switch between List and Gallery viewing modes.
Refresh Product Portal. Use this button to refresh the view of products and authorizations for any new data.
Reveal all hidden products. Use this button to show any products that may have been previously hidden or made unavailable.
Next available action. Use this to begin to install, authorize or update a product.
Note* to launch a product itself, open your supported host application/DAW and rescan, some products offer standalone applications as well.
Hide this product prompt. Use this button if you're receiving a prompt to install a product that's already installed, or just to hide a product from the view.
Uninstall this product. Use this button to run the products uninstaller.
Note* if that fails to run, you may be on macOS 10.15+ and that product is unsupported, reach out to Customer Care for uninstallation steps.
View/download trials. Use this button to monitor trials or download any new ones from our site.
Products ready to update. Use this tab to view available updates for iZotope products.
Add-on installer. Use tab contains installers that have additional content available.
Product info. Use this info to see details on the product.
Note* to launch a product itself, open your supported host application/DAW and rescan, some products offer standalone applications as well.
View source. This hover option allows you to see where the license is coming from, for example, a larger suite.

You can download an additional help, see our FAQ page or download this PDF for Product Portal here:
Download Help Guide