To help you get set up within your host application/DAW, Stutter Edit 2 has DAW-specific setup steps within the plugin itself. You can find this by clicking the Mode button towards the top of Stutter Edit 2.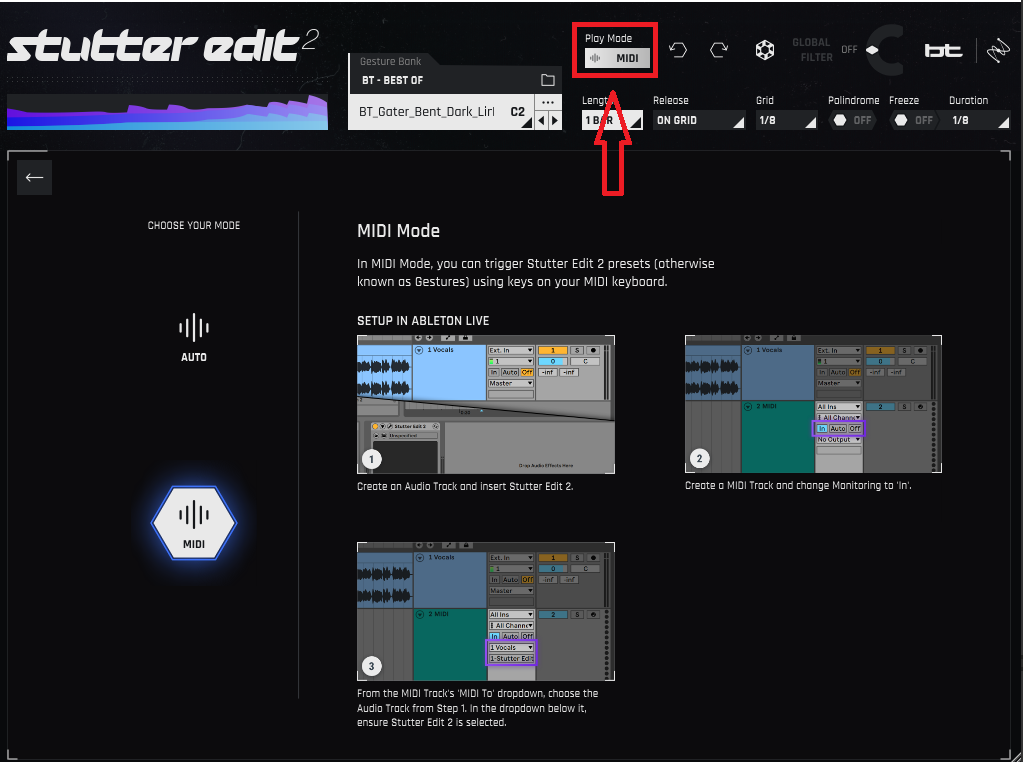 Supported Host Applications setup:
Other Host applications:
Insert Stutter Edit 2 on an audio track or bus, as you would any other audio effect plug-in.



Next, route a MIDI or Instrument track in your DAW to the Stutter Edit plug-in, or make sure Stutter Edit 2 can receive MIDI from your MIDI controller (some DAWs, including Ableton Live, allow using your computer keyboard to trigger MIDI notes). Audio must be going through the Stutter Edit 2 plug-in and it must be triggered by a MIDI note before you can hear it add an effect.

Note: If you don't have a MIDI controller, click on the Play Mode button toward the top of the interface, and choose Auto mode. In this mode, Stutter Edit 2 will automatically activate a Gesture, as selected in Step 5, when the DAW playback starts.


Start playback at your DAW application's transport, so that audio goes through the track or bus containing the Stutter Edit 2 plug-in.


Play notes on your controller, or start painting notes into your MIDI track, to trigger effects in the currently loaded Bank.



Explore Stutter Edit 2's available Banks by clicking on the Gesture Bank drop-down menu at the top of Stutter Edit 2's interface, and clicking on the keyboard graphic to select different Gestures within the Bank.