Can Audiolens be used without Ozone 10 or Neutron 4?
Yes, Audiolens is a desktop app that makes track referencing and comparison easy by analyzing audio from any streaming platform or audio source. Save the tonal data of your references to your Audiolens Target Library to build a personal catalog of reference track data that you can access anytime to compare tonal balance curves against your own work or other audio.
If you are using Audiolens with Neutron 4 or Ozone 10, ensure that you have the latest version of those products installed by updating in Product Portal.
What iZotope products does Audiolens work with?
Audiolens integrates with Ozone 10 (Advanced and Standard) and Neutron 4. For existing product owners make sure you visit Product Portal and update your product to access the Audiolens workflow.
After installing Audiolens I cannot find it in my DAW
Audiolens is a standalone desktop application. It's not a plug-in that can be opened in your DAW. When you save the tonal data of your references to your Audiolens Target Library, you can access this data in the Ozone 10 and Neutron 4 plug-ins.
Can I trial Audiolens with Ozone 10 or Neutron 4 if I don't own those product already?
Yes! Grab your free version of Audiolens then download a 10 day free trial of Ozone 10 or Neutron 4 to see how easy referencing can be.
How long does the free giveaway last?
The Audiolens free giveaway ends November 22, 2022 at 9am EST. After that date you can purchase it for $25 during the holiday sale period.
Special Setup for macOS users
If you're on a macOS please refer to these instructions to install Audiolens for the first time.
When running the Audiolens installer, a QR code will appear which you can scan to follow the installation instructions.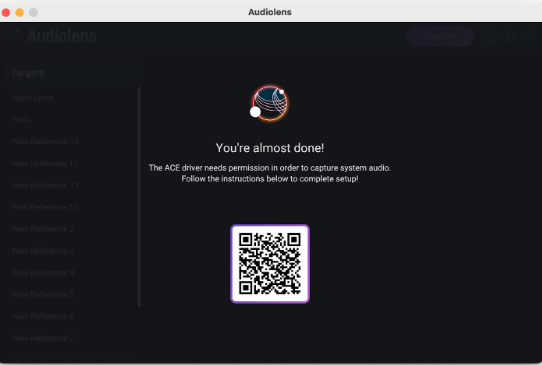 Where do I find additional information on getting started?
You can access step by step instructions here: https://docs.izotope.com/audiolens/en/index.html
What are the system requirements for Audiolens?
Mac: macOS Big Sur (11.7.x) — macOS Monterey (12.5.x)*
*Supported on Intel Macs & Apple silicon Macs in Rosetta 2 and native.
Windows: Windows 10 — Windows 11
---