Authorizing subscription/membership products
Our subscription "Pro" plug-ins don't come with or require a serial number to authorize. They automatically authorize to your device when you install them from our Product Portal.
If you've just purchased iZotope software from our store or a retailer, you will be sent a download link and serial number to get started with your new purchase. You can authorize your products with our Product Portal, with your serial number (online authorization), or with offline for computers without internet access. In addition, you can also use iLok authorization to authorize to your iLok USB.
For Exponential Products, head to this article.
Product Portal
iZotope Product Portal is our latest all-in-one for downloading, installing and authorizing iZotope software. After purchase, you can sign in to Product Portal with your iZotope account information and it will automatically populate with your software under "My Products".

If you don't see this right away, you can add your serial numbers by clicking the add serial button on the top right of the window.

Product Portal will then guide you through downloading, installing and authorizing your iZotope products!

For iLok Authorization, choose the iLok option and enter your iLok ID. You can then open iLok License Manager to assign an iLok USB for the license.




You can learn more about and download the iZotope Product Portal on its article.
Online Authorization
Alternatively, you can authorize software via our online method. For this, you can download your software from your iZotope account and after installation, you can authorize with the serial numbers emailed to you.
Upon first opening your iZotope product, the authorization window should pop up straight away. You can authorize with your iZotope email account and serial number on your account page or in your purchase confirmation email.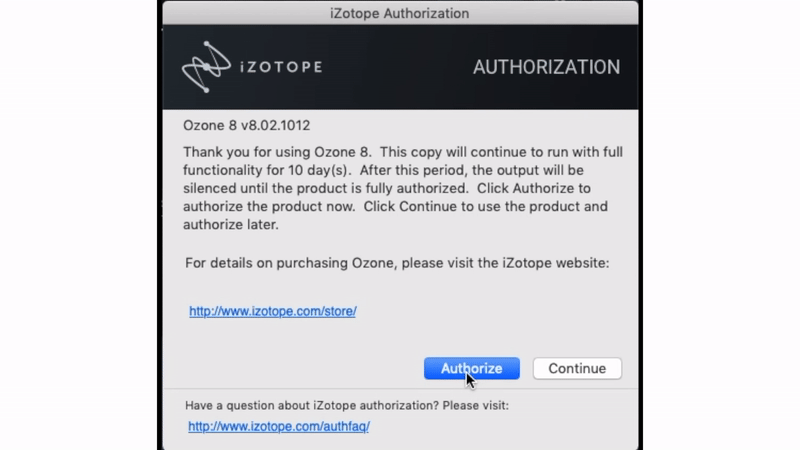 USB Authorization
iZotope authorizations can also be stored on a portable hard drive or flash drive, which can be beneficial when trying to authorize multiple user accounts on a single computer.
Before proceeding, make sure that your portable drive is attached to and recognized by your system. Also, make sure the drive has been formatted at least once in its lifetime, and is ready to store data.
You can attach an iZotope license to the drive via the steps below:
1) Load the iZotope product in your host application or as a standalone (if available)
2) In the authorization window, enter your name, email and serial number
3) Click the Advanced button and choose 'Store response on disk,' and then choose the desired disk in the list on the left Click authorize.
For iLok Authorizations, enter your name, email, serial number, iLok ID and check the iLok Authorization box. Then, you can open iLok License Manager to assign the license to an iLok USB.
Offline Authorization
If you are using a computer that is not connected to the internet, you can follow the steps below to authorize.
1) Open your iZotope software, you can do this by inserting it in your host application, or by launching the standalone application (if available).
2) Upon opening iZotope software, you should be automatically prompted to authorize. Here, you can enter your serial number, name and the email address associated with your iZotope account.
3) Once this is completed you can now choose if you wish to authorize to an iLok USB or via a challenge and response.
4) After selecting challenge and response, you will be given a code to enter on our website in order to generate a response file. You can do this on your
iZotope account
by navigating to your Purchase History section of iZotope account, find the product you wish to authorize and select the "Offline" option in your Portal.
5) Enter your challenge code into our website, and you should be given a downloadable file which you can upload into the authorization window by clicking "Choose File".
6) Click "Next" and your file will be validated, if successful, you can begin using your new iZotope software!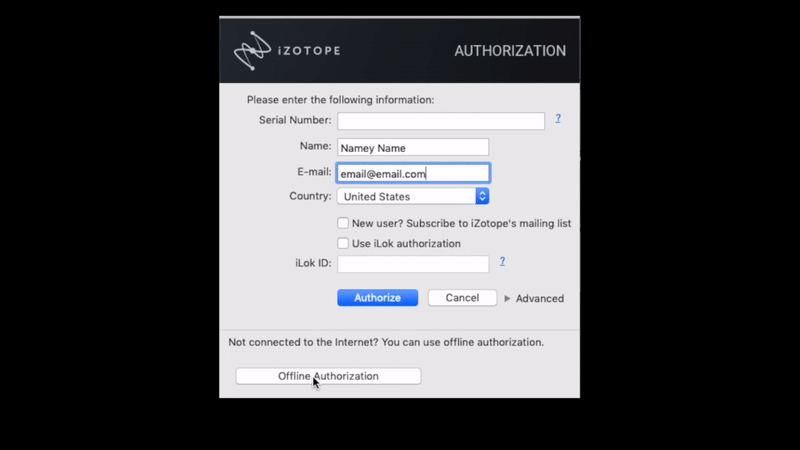 Note: If you get an error message after entering your challenge code on our website, make sure that your license is fully registered to your account. You can do this by copying your serial number and pasting it into this window on this page:





After doing this, try entering your challenge code again. You should then receive your response file

Subscription and "Pro" products
Head to this page for subscription setup steps